Archive for December, 2010
Saturday, December 25th, 2010
I hope your holidays are filled with family, food and fun!  As the year comes to an end, I want to thank all of you who check out the blog on a regular basis.  It has been amazing to hear from so many of you this year!  Here's to a bigger and better 2011 for us all!
Thanks again!
Tuesday, December 7th, 2010
A while back I did a commissioned piece for a little girl named Claudia for her fifth birthday.  Her mother's instructions were only that Claudia be dressed as snow white.  Once it was finished I didn't think to ask to put it on the blog so I won't be posting a picture of the finished product.  In any event, I was happy with the end result and I heard that Claudia really liked it.  Now, a few months later I get a gift in return—my very own picture of snow white drawn by Claudia.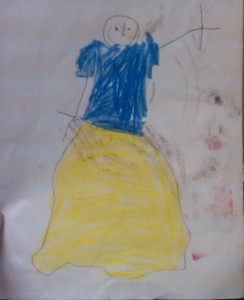 How great is this drawing?  And not only that, but apparently she was, for a while at least, drawing at least  one picture like this a night.  First of all, I need her work ethic.  Second of all, she's only 4 1/3 and her grasp of anatomy and proportion is better than mine!
Sunday, December 5th, 2010
http://www.arthousecoop.com/projects/sketchbookproject
What have I been working on lately?  Lots of stuff, which I'll get to putting on here at some point, but one really fun thing has been a sketchbook project I'm doing.  It's sponsored by Art House Co-op, who send out thousands of sketchbooks to artists around the world to fill it up and send it back to go on tour around the United States.
Each artist is sent the same blank Moleskine sketchbook. There are only two rules:  first, the book must be used in some way – can't send back an empty book or a completely different book.  Second, the sketchbook must stay within its original dimensions.
Each book is given a barcode to be cataloged into The Brooklyn Art Library system.  Once it is cataloged, I will be able to track where on the tour their book is viewed and how many times someone pulled it from the shelf.
The sign-up has passed for this year's sketchbook project, but the Art House Co-op sponsors a lot of amazing projects like this one.  Check out it the fiction project.  Similar to the sketchbook, but uses a narrative structure:  http://www.arthousecoop.com/projects/fiction
I'll post some of the images here soon.