Archive for May, 2010
Sunday, May 16th, 2010
I've been busy lately and so the posts have lagged, but thought I'd write something about Iron Man 2 since I just saw it last night.  FYI, this contains a few spoilers.  What did I think, you ask out loud like a crazy person?  Well, disappointed is the wrong word, but it didn't live up to my (admittedly very high) expectations.  It was a good movie, but just not FUN, like the first.  Robert Downey Jr. is fun to watch do anything; including interact (for what seemed like hours) with imaginary computers.  Mickey Rourke is great as a bad guy (incidentally, I love that the first Google complete for a search of Mickey Rourke is "Mickey Rourke plastic surgery.").  Even Scarlett Johansson was pretty good in her action scenes.  It just lagged in a lot of places and I thought the action scenes were pedestrian, with the exception of the race track scene.  I did love Sam Rockwell as Justin Hammer, even though his self-tanner covered hands were distracting.  They were so orange they looked like orangutan hands.
I think the story was too predictable and there was no sense at all that anyone was in danger.  Did anyone think Tony was going to die from his circuitry-rash?  But, the people I saw it with were really enthusiastic and they loved it.  There was even a guy at the theater dressed as Iron Man, and this was week two!  You've got to respect that level of fandom.   I love those people.  Honestly, I like to think they do it to make my day rather than for their benefit.  Ah, if they liked it, what do I know?  Go see it if you want, but I would have had a better time watching the first one again at home.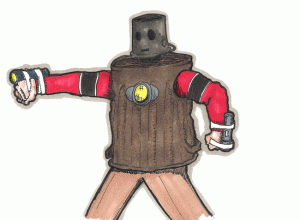 Worst. Iron-Man costume. ever.