Archive for April, 2010
Sunday, April 18th, 2010
This new piece is pen and ink with digital coloring.  Winsor Newton 0 brush with speedball ink, photoshop (CS2) and a wacom PTZ-630.  I wish that I had more time to work on it—I was really in a time crunch with this one.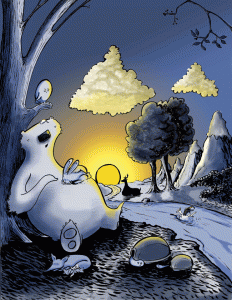 That's because it is a submission for use in a publication.  I'll let you know how that whole thing turns out.
Sunday, April 11th, 2010
I realize that some people are having problems with the lulu site, so I've decided to cut out the middle man and offer the book for download here.
Go over to my "Buy" page and click on the picture of book at the bottom of the page.  The page I put it on is a bit misleading since the book is free, but I was too lazy to set up a free stuff page. Let me know if you guys are encountering any problems.  Enjoy!
Sunday, April 11th, 2010