Archive for March, 2010
Wednesday, March 17th, 2010
I am a Lost nerd, so I am both eagerly awaiting the show's finale and also dreading the downtime.  This season makes me long for a simpler time when were just introduced to an incredibly creepy man named Henry Gale.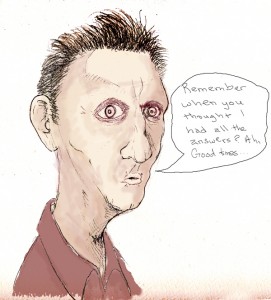 Very quick pencil sketch with digital coloring/lettering.
I will be posting a final version of Ben soon and hope to do a series of the other characters. Looking at him now, I can see his eyes are off and there's some other things I need to fix.  Oh well, back to the drawing board – ha ha. . .ugh.  Sorry.
I am enjoying the show this season.  I find that I get so anxious about getting the answers that it takes me out of the show.  I just check off the answers they give us for each show (not a lot so far) rather than enjoying the episode like I always have.  So I'm finding the flash-sideways somewhat infuriating.  I'm getting better though.  I have faith that they will leave us with an epic ending to an amazing show.