Archive for October, 2009
Friday, October 30th, 2009
A bit more stuff about the monster project seems appropriate given the upcoming holiday.  When I started, I thought I may have trouble coming up with 142 different monsters, but I still have some that I didn't have room for or thought of later.  Looking over them now, I see some mistakes that I'd like to correct.  For some I failed to establish a setting or to complete the scene.  For instance, this one is a complete failure: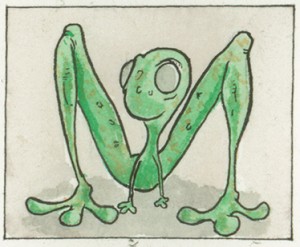 Nothing monstrous about him—he's a weird-looking frog.  With some context he could appear to be about the size of a dog, or a horse, or even a t-rex and then you've got a monster.  This technique worked well for others.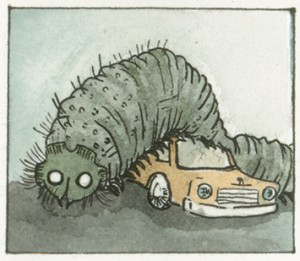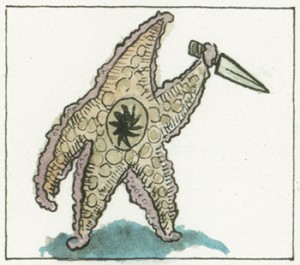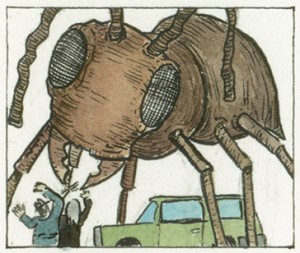 I guess I left out the background stuff because I thought the frog would turn out more unusual looking.  I found that it wasn't always necessary to address scale or setting if the thing looked weird enough.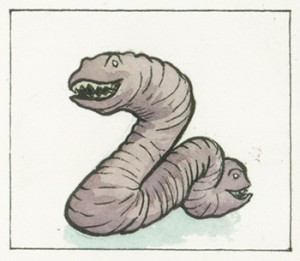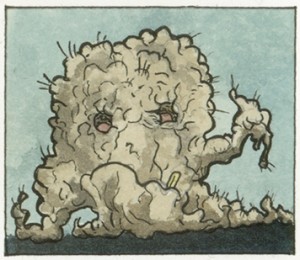 He just turned out kind of too cute to be a monster.  This unintentional cute-tening happened with another one of the monsters.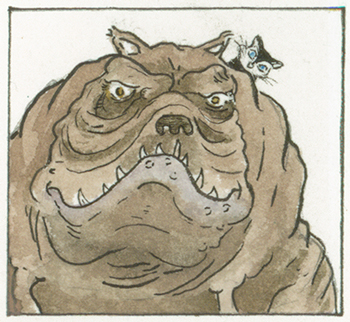 I had drawn this big, lumpy, scary-looking dog.  But, once I painted it, he appeared to be waaaay less scary—practically a sweetheart.  I realized that he looked a lot like Marc Anthony, the dog from my favorite Chuck Jones short, Feed the Kitty.
So I added the kitten and now he's not much of a monster, but I'm really happy with it.
The Contest:
First person to send me the correct answer in either the comments to this post or emailed to jc@justincampoli.com will get a free print. Who was the actor who played this monster, in what TV show, and what is the connection between this episode and Alan Moore's Watchmen?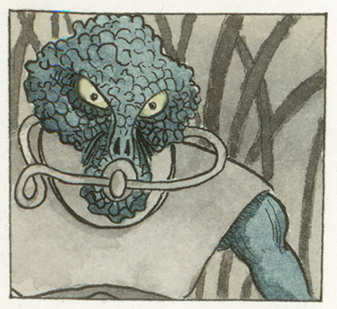 Check out the portfolio for a hint.
Sunday, October 25th, 2009
A lot of people have been asking about this—I completed the painting a while ago, but then it took some time to get it scanned.  So, without further ado, here's the completed painting:
If you click over to my portfolio, you'll be able to see each individual frame.  This was a lot of fun, and I hope everyone likes how it turned out.  Thanks for all the support and all of your print orders!  I still have a few of each left, just click on "buy" above to purchase one.