Archive for August, 2009
Saturday, August 29th, 2009
I have a sheet of 22 x 30 Arches watercolor paper that I taped off into 143 different squares—don't do the math it's 11 x 13.   One box is devoted to the title, leaving 142 squares to be filled in with various monsters.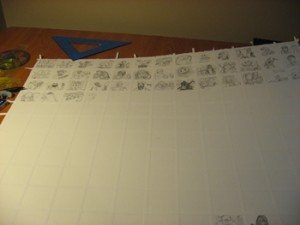 These include things I've made up, references to movies, TV shows—honestly whatever I can think of.  It's a challenge to myself to complete.  I am drawing a lot of new things, but for now I thought I would share two of the more recognizable ones.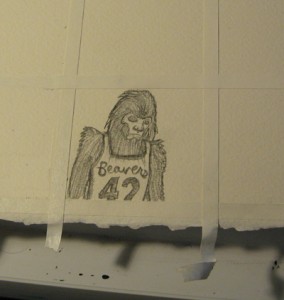 This is the Michael J. Fox teen-wolf (just after Chubby tells him he's selfish for always dunking when other people are open). BTW***nerds read this, everyone else move on to the next picture.   In researching Chubby's name on imdb (because I knew his name was something like "fatty" or "lardo" but couldn't quite remember it), I found out that Jeph Loeb co-wrote "Teen Wolf" and co-wrote "Teen Wolf Too" with Tim Kring.   For those of you who ignored the warning, these are the people who created Heroes. . .and now keep making the first season over and over again.  I thought it was at least marginally interesting.***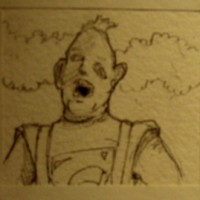 Here's Sloth—who technically isn't the monster, his mom and brothers are.  But, he looks cool, so whatever.   Ugh, the pic is just slightly out of focus; it is driving me a little nuts. 
I'm a third of the way done with the pencils.  I'll be inking and painting each little one.   Eventually, it will be a mini-comic.  Update to come soon.